Fitting the Cobbler's Kid for New Shoes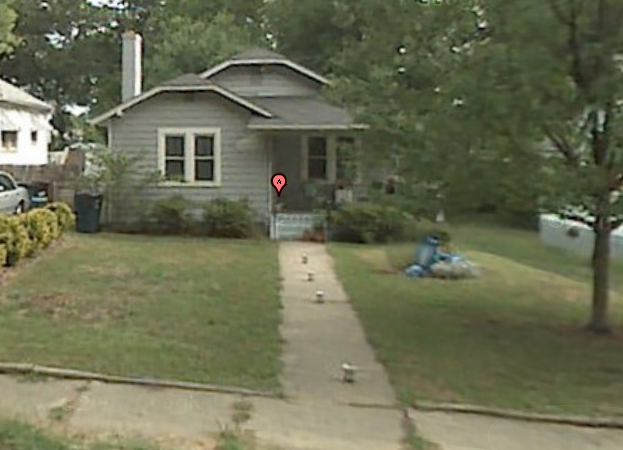 Our little house – courtesy of Googlemaps, as apparently I haven't taken a photo of it since purchase.
I suspect that many of my clients believe that I live in a beautiful, perfectly restored, historic palace, where every element is carefully planned and selected. Only the 'historic' part is true, as in reality I live in a wee little bungalow that has suffered through a number of enthusiastic home-improvement attempts that stalled out before completion. We have a living room with partially-repaired plaster: it's needed paint and a picture molding put up for approximately three and a half years. Then the kitchen… you get the idea.
Our bathroom is particularly bad, however. We successfully replaced the giant pedestal sink with a much more petite vanity, but in the process wreaked havoc with the drywall. In all honesty, the drywall was pretty rough to begin with, as I stripped the wallpaper off of the bathroom when we first moved in and did nothing to smooth out the glue before painting it, six plus years ago. I do my best with some happy-bright-saturated colors, but I know the truth behind the shower curtain.
Honey onyx hex tiles – perfect combo of traditional and textural for my small space, and the eventual bath floor.
But now, hope is on the horizon! We have decided to bite the bullet and fix up the bathroom, taking off the horrible vinyl bath surround, tiling up the walls, replacing the toilet, and generally making things right. The one budget compromise – we'll leave the existing (miserable) tile on the floor, as it runs into the hallway and opens up another can of worms. I have my fantasy future bath floor in mind, however: the marble or onyx versions of the traditional patterns: hex, dogbone, basket weave, even octagon-and-dot.
After some mad fantasizing about $42-a-piece glass tiles that had me all excited, I readjusted my expectations and headed off to the store, feeling like it should be simple: I know roughly what is available, what prices are reasonable, where to go, what would match with my existing floor, and what is appropriate for my house (both in terms of era and value). But then, confronted with a world of possibilities, my head kind of exploded… and my sympathy for my clients skyrocketed. This selection stuff is way harder when it's for your own house!
I came home, armed with an array of samples, and came to a conclusion of what would work best with my dream floor, the current floor, and the white subway wainscot that is a definite – and my husband doesn't like it. He'll live with it, he says… but who wants to just live with it? That's what we have been doing since we moved in, after all.
Clearly, it would have been too easy to end up with the first selection out there – so I'll head back into the thick of it again soon, and keep posting about my project whenever there's a development. After all, my clients should be right: I should live in a perfectly-restored, adorable historic home, where every element is well considered… better start somewhere.
Contact Us
info@fouroverone.com   (919) 339-1411
Office Address: 1235 Berkeley Ave, Durham, NC, 27701
Mailing Address: P.O. Box 355, Durham NC, 27702